Alicia San José
Postdoctoral researcher
sanjose(ELIMINAR)@clinic.ub.es
PhD with International Mention, BSc Hons in Nursing and in Translation and Interpretation Studies, Master of Arts and Master of Science.
She is the coordinator of the clinical trials unit. Her work involves administrative, clinical and laboratory tasks. She plays a crucial liaison role between the different parties involved in each study: the pharmaceutical industry, hospital departments and the research personnel having proved to have good communication skills and considerable organizational ability. She also provides nursing care to the patients enrolled in the studies and supervises the research protocols. She prepares the documentation required to carry out the studies in the hospital, such as feasibility questionnaires and the approval of the ethics committee. She also takes part in recruiting patients and reviews their clinical records; she extracts and processes biological samples and organizes administration of medication. She then follows up both the patients and the samples.
She also takes part in the following lines as a research nurse: Acute respiratory distress syndrome and acute lung injury (ARDS-ALI), ventilator-associated pneumonia (VAP), noninvasive ventilation (NIV), animal model, and immunocompromised patients.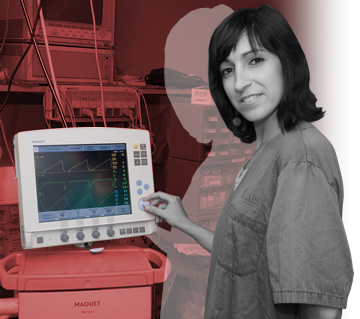 A research nurse plays a vital and transversal role in a research team
Involved in the following lines