Victòria Alcaraz
Physiotherapist, PhD
victoriaalcarazserrano(ELIMINAR)@gmail.com
She holds a Diploma in physiotherapy from the Faculty of Health Sciences Blanquerna. She is currently completing the Master's degree in Applied Clinical Research Health Sciences at the Autonomous University of Barcelona (UAB) to complement her academic training in the respiratory area. Victoria Alcaraz has recently joined the research group to pursue respiratory rehabilitation of bronchiectasis not derived from cystic fibrosis (BQ-noFQ).
Its field of action focuses specifically on bronchiectasis not derived from cystic fibrosis (BQ-noFQ), specifically in respiratory rehabilitation. Principally, to evaluate the effectiveness of different airway clearance techniques in these patients by analyzing stethoacoustic bronchial breath sounds, and the impact generated by the respiratory therapy on quality of life of these patients. Also active in other fields of research related to BQ-noFQ such as: the development of a proprietary database in order to address epidemiological, and microbiological etiology of this disease, or to investigate on the impact that the local and systemic inflammation does in the course of the disease in patients with BQ-noFQ.

Her research could discover relevant clinical and pathological aspects of patients with BQ-noFQ to achieve improvements in the clinical monitoring of patients by health professionals, which will reduce the social and economic impact generated by this disease.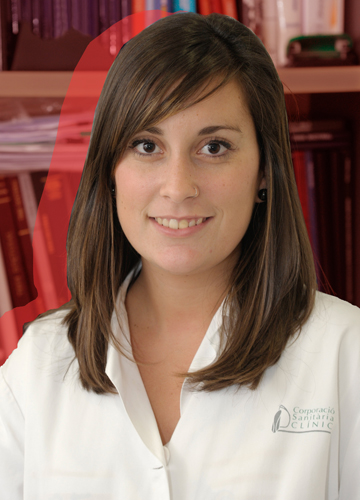 She focuses on respiratory rehabilitation of bronchiectasis not derived from cystic fibrosis to improve patients' quality of life
Involved in the following lines