Montserrat Rigol
Senior Researcher
mrigol(ELIMINAR)@clinic.ub.es

Doctor from the Faculty of Veterinary Medicine of the Autonomous University of Barcelona. She is a researcher at the August Pi i Sunyer Institute of Biomedical Research (IDIBAPS) and leads or collaborates on research projects in the field of experimental respiratory medicine and cardiology.
As a member of Dr. Torres' experimental laboratory, she takes part in research projects using a pig animal model to study the effect of different antibiotic treatments, such as linezolid and vancomycin, on ventilator-associated pneumonia (VAP).
In the field of experimental cardiology, she participates directly in a line of research in the filed of myocardial regeneration using mesenchymal stem cells in a pig model of acute myocardial infarction. This project has developed an infarction model in pigs that is reproducible and has similar clinical and anatomical and pathological characteristics to those of humans. Pig mesenchymal stem cells have also been cultivated in collaboration with the Cellular Physiology Laboratory of Hospital Sant Pau and different techniques are being standardized for marking these cells to administer them and study the effect of cellular therapy.
The results of this line of research lead to a clear benefit: when these cellular therapies can be applied to humans in clinical practice, they will contribute to mitigating cardiac remodeling and subsequent chronic heart failure in patients who have suffered acute myocardial infarction.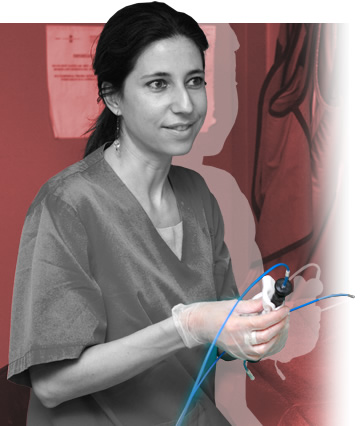 She takes part in research projects on a pig animal model to study the effect of different antibiotic treatments and myocardial regeneration using mesenchymal stem cells
Involved in the following lines