Arturo Huerta
Postdoctoral researcher
ahuerta(ELIMINAR)@clinic.ub.es

Doctor in Medicine, graduated SUMMA CUM LAUDE from the School of Medicine of the University of Monterrey (Monterrey, Mexico) and then specialized in Internal Medicine/ Pulmonary & Critical Care Medicine. He was awarded in 2009 with the long-term fellowship endorsed by the Spanish Society of Pneumology and the Latin-American Society of Thorax (SEPAR-ALAT) when he started his career as researcher in Dr. Torres' group. In 2010 he made his master by the University of Barcelona (Attention to the Emergency & Critical Care Patient) where he was awarded as an outstanding student (MH – Cum Laude).
Now he's focused in Acute Exacerbations of Chronic Obstructive Pulmonary Disease (AECOPD) studying causal infectious agents (virus, bacteria or fungus) and the inflammatory response related to treatment failure, mortality and re-hospitalization. These are the main targets of his doctoral thesis and he was awarded by the American Thoracic Society (ATS) because his research on fungal colonisation in COPD patients.
Member of several scientific societies (SEMES, SEPAR, SEMIYUC, ERS, ALAT), he often collaborates both as author/coauthor for national journals (Arch Bronconeumol, Med Clin Barc) and international ones (Clin Pulm Med, Eur Resp Jou, Respiration, Oncology).
He's an official evaluator (with Dr. Miravitlles) in the Faculty of 1000 in the COPD and Allied Respiratory Diseases area in which their evaluations have become in the top 5% in two consecutive years.
Nowadays, he's in charge with Dr. Soler of the outpatient clinic after hospitalization of COPD patients, specialist of the Emergency Room (ER) at Hospital Clínic de Barcelona and Coordinator of the COPD group of the Catalan Society of Pulmonology (SOCAP).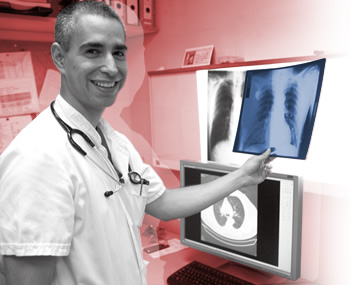 Now he's focused in Acute Exacerbations of Chronic Obstructive Pulmonary Disease (AECOPD) studying the etiology and the inflammatory response related to treatment failure, mortality and re-hospitalization
Involved in the following lines