Joan Daniel Martí
Postdoctoral Researcher
jd.martibcn(ELIMINAR)@gmail.com

Doctor from the University of Barcelona and qualified in Physiotherapy at the Universitat Ramon Llull of Barcelona he starts his specialization in mechanical ventilation at the University of Medicine of Créteil (Paris) and later at the University of Barcelona through a Master on Respiratory Medicine. He takes part of the Animal Model line and his research projects are based on finding new physiotherapy strategies to improve airway secretions clearance in critically patients and reduce the incidence of ventilator associated pneumonia (VAP).
A primary aim of his work is to validate several specific physiotherapy techniques for airway secretions drainage in critically mechanical ventilated patients. He is also involved on the creation of a new mechanical device to improve airway secretions clearance and he participates in several projects included the animal model line for the prevention of VAP.
His research can reduce considerably complications associated with VAP, which is the second most frequent acquired infection in critically intubated and mechanically ventilated patients. Moreover, improve airway secretions clearance can reduce the length of intubation, length of stay and morbi-mortality in the Intensive Care Unit.

Publications
An In Vitro Study to Assess Determinant Features Associated With Fluid Sealing in the Design of Endotracheal Tube Cuffs and Exerted Tracheal Pressures*

Li Bassi G, Ranzani OT, Marti JD, Giunta V, Luque N, Isetta V, Ferrer M, Farre R, Pimentel GL, Torres A.

Crit Care Med. 2013 Feb;41(2):518-526.

Effects of Manual Rib Cage Compressions on Expiratory Flow and Mucus Clearance During Mechanical Ventilation.

Martí JD, Bassi GL, Rigol M, Saucedo L, Ranzani OT, Esperatti M, Luque N, Ferrer M, Vilaro J, Kolobow T, Torres A.

Crit Care Med. 2013 Jan 10.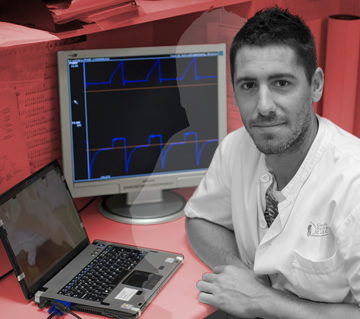 His research aims to reduce complications associated with Ventilator Associated Pneumonia
Involved in the following lines