Catia Cillóniz
Postdoctoral Researcher
catiacilloniz(ELIMINAR)@yahoo.com

Doctor in Medicine from the University of Barcelona, her thesis project was on the topic "Microbial Etiology of Community-Acquired Pnemonia: 12 years of study", Cum Laude under the guidance of Professor Antoni Torres (University of Barcelona, Spain) in 2011 and took up a Post-doc position otorged by the Spain Ministery of Economy and Competitivity at Department of Pneumology, Hospital Clinic of Barcelona. She is associated Professor of the Faculty of Medicine (University of Barcelona) since 2017. She won the best PhD award from the University of Barcelona 2015, She received a Short term ERS fellowship 2016.
She is now the coordinator of the research line "Community-Acquire Pneumonia (CAP)" part of the research group on Respiratory Infections that Dr. Antoni Torres leads at Hospital Clinic of Barcelona Spain. She is a member of Research group on Management and Prevention of infections, interstitial and tumoral lung diseases of the Agusti Pi I Sunyer Institute of Biomedical Research (IDIBAPS). Last year she received the recognition as Investigator Concytec from National Council of Science Technology and Technological Innovation (CONCYTEC) Peru.
Her research focuses on Community-Acquire Pneumonia (CAP), especially on microbial etiology of this entity. The aim is to answer questions arising from clinical observation of patients that are not in the literature and to obtain results that can be quickly applied to patient care in the diagnosis, treatment and prevention of pneumonia. She has the responsibility of specifically leading translational research on CAP and she coordinates one of the largest and long-standing Databases on CAP patients in Europe.
Catia Cillóniz has published several articles describing the microbial etiology of CAP in several specific populations and their relation with factors such as age, sex, comorbidities and seasonality. She has produced more than 80 indexed publications in several prominent journals with more than 1200 citations. She is investigator collaborator of numerous clinical trials community-acquired pneumonia worldwide.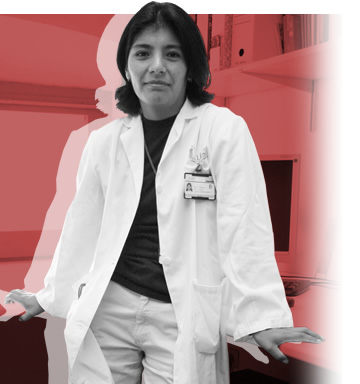 She has the responsibility of specifically leading translational research on CAP and she coordinates one of the largest and long-standing Databases on CAP patients in Europe
Involved in the following lines