Miquel Ferrer
Senior Researcher
miferrer(ELIMINAR)@clinic.ub.es

Doctor of Medicine from the University of Barcelona. Specialist in respiratory medicine and leader of the research lines on noninvasive ventilation (NIV) and ventilator associated pneumonia (VAP). He studies the efficacy of NIV in patients admitted to intensive care and intermediate respiratory care, and aspects relating to risk factors, outcome, prevention and treatment of VAP. He also collaborates on the CAP and ARDS-ALI lines of the group and takes part on different multicenter studies.
The NIV and VAP lines aim to answer questions such as whether it is possible to improve the outcome of mechanically ventilated patients using NIV, which patients with severe respiratory failure can benefit from NIV, whether it is possible to develop new measures to prevent VAP in intensive care, and which new treatments can improve the outcome of patients with VAP.
His research focuses on the efficacy of NIV in different clinical situations of severe respiratory failure, such as weaning from invasive mechanical ventilation or severe exacerbation of chronic obstructive pulmonary disease (COPD). At the same time, he studies the mechanisms associated with the development of VAP and response to different therapeutic agents, such as corticosteroids.
The results of his research on NIV have improved survival in intensive care for different types of patients. In future, these aspects will be studied in greater depth, together with an effort to find the best way to withdraw NIV after patient improvement. In terms of VAP, he implements different measures for the prevention and treatment of pneumonia in critical patients.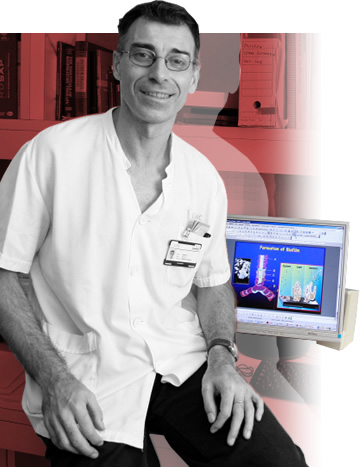 The results of his research on NIV have improved survival in intensive care for different types of patients
Involved in the following lines